Welcome to Greenviews
Resort accommodation in El Nido and Port Barton.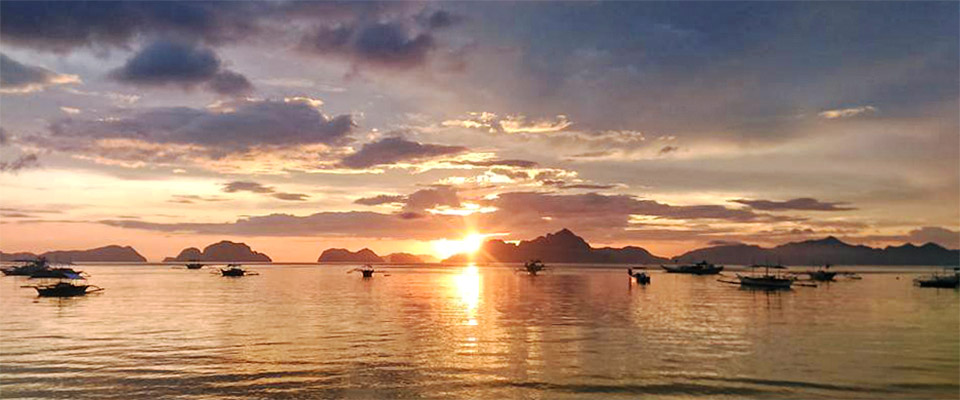 Sunset at Corong–Corong .
Palawan Greenviews has two resorts on Palawan; the resort at Port Barton opened November 1997 and at Corong–Corong, El Nido opened in November 2007.
Both are ideal holiday destinations for guests seeking a genuine friendly, clean and relaxing environment located in two different areas of outstanding natural beauty. A beauty enhanced by the sympathetic construction of native style cottages and restaurants blending into the surrounding wilderness.
The already wonderful atmosphere has been further reinforced by extensive planting of trees, shrubs and orchids which makes walks through the gardens a joy for plant lovers, wildlife enthusiasts and anybody who appreciates the natural world.
Both resorts are conveniently located for boat trips to the surrounding islands and beaches, which Palawan is justifiably world famous for and each resort offers a different kind of island experience.
El Nido's islands are famous for its jagged karst scenery and wonderful beaches whereas the islands around Port Barton are the more typical desert island ideal with superb white beaches and snorkelling opportunities.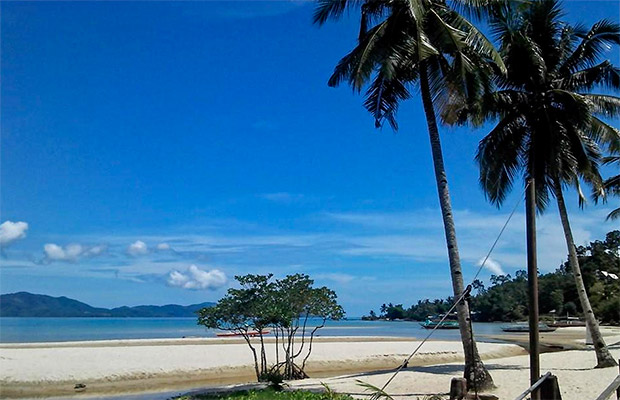 El Nido Resort.
Booking & Enquiries.
To make a booking or for more information, please email :– palawandg@clara.co.uk
Please state which resort in your original booking email request.
Last minute bookings please also call the resorts direct as well as emailing.
for El Nido phone :– 0905 315 6333 or 0921 586 1442
for Port Barton phone :– 0916 403 7788 or 0929 268 5333
PLEASE NOTE THE EL NIDO TELEPHONE NUMBER IN LONELY PLANET IS WRONG)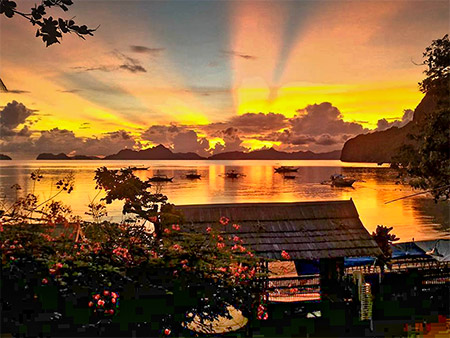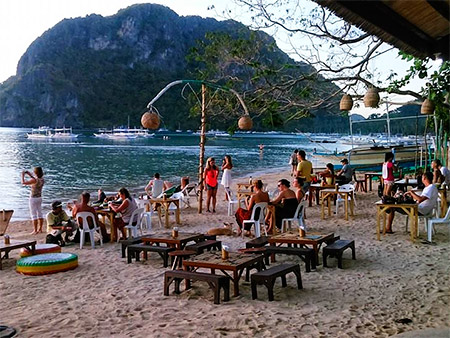 Booking Terms & Conditions.
A deposit of two nights accommodation fee will be required, payable within one week of confirmation of booking or the booking will be automatically cancelled.
If guests do not arrive on the first day covered by the deposit, the deposit will be lost for that first day. It will also be lost for the second day of non–arrival and the booking cancelled unless notified by telephone or email by 12 noon that you will be late.
Guests arriving from Coron by boat should be aware that boats are often cancelled so guests coming from Coron to Greenviews do so at their own risk.
If the boats are cancelled and your journey is delayed the deposit will be lost and you must claim on your insurance or from the boat company. Greenviews management do not accept any liability for delays to your journey caused by others.
Your booking for the days not covered by a deposit will also be cancelled unless notified of new arrival time by telephone or Email but not by text as texts sometimes do not get through.
To avoid this risk we suggest that you fly to and from Coron via Manila as boat cancellations happen frequently. This causes a lot of stress to guests who are stranded by cancellation of the ferry boats.
If a deposit has been paid and we manage to re–let, then we will refund the deposit less 10% administration fee.
Palawan Greenviews Resorts have high standards of cleanliness maintained by the friendly and helpful staff and management, which helps guests enjoy the fascinating natural and unique beauty of Palawan – an island which Jacque Cousteau described as the most beautiful place he had ever visited.
The owners Tina & Dave Gooding have a love of nature and the environment and that is evidenced by the way the resort is run with much planting to encourage wildlife into the resorts.
Information and photos of both resorts and the new Jungle & Waterfall Wildlife Sanctuary are set out on subsequent pages.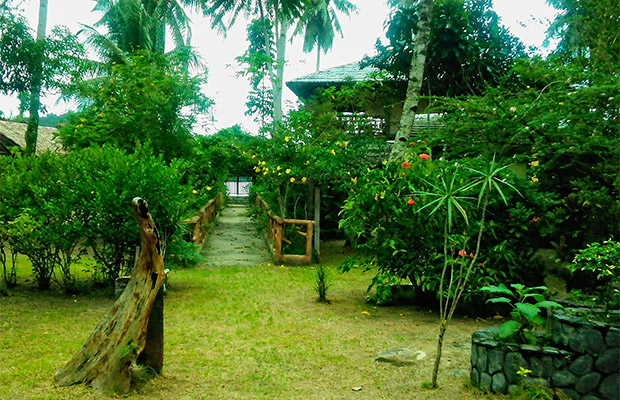 El Nido Resort.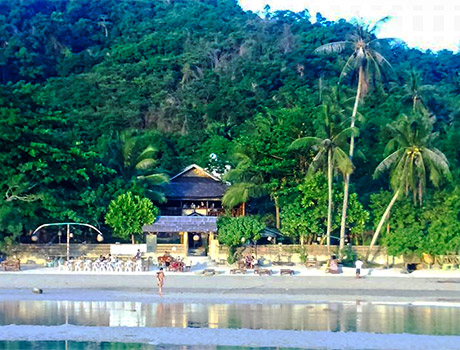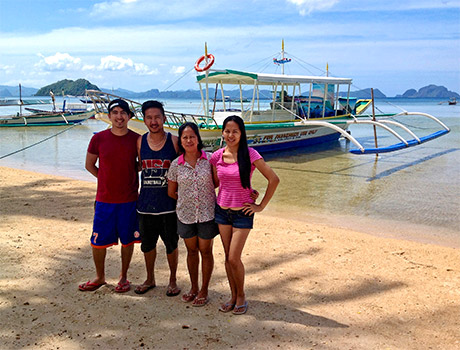 LATEST NEWS
Palawan had no typhoon last November except for the extreme northern island of Coron. Greenviews and the surrounding islands had no damage.
Port Barton Greenviews re-opened 3 December 2013 and now has a magnificent restaurant on the 2nd floor at the front overlooking the beach with superb views of the sea and surrounding coastline. Every Monday, Wednesday and Friday 8pm-10pm we have an acoustic band playing gentle music who are becoming very popular.
A 9 hectare Jungle & Waterfall Wildlife Sanctuary has been purchased near El Nido. The opening date of this area cannot be determined at the moment as other commitments prevent us from making the paths safe for visitors. As soon as we know when it is suitable for visitors we will announce it on this website.
We now have 24 hours free WI–FI at El Nido.
In El Nido on 16 November 2013 the Local Government imposed strict new conditions on operating boat tours including increasing the prices of all the tours A-D by 50% so the new prices which all boat operators have to charge or be fined are A P1200, B P1300, C P1400, D P1200 based on a minimum of 4 passengers per boat and incudes water and a choice of lunch.
Greenviews no longer has its big boat going from Port barton to El Nido or to Sabang. If a boat trip is required Greenviews staff will assist in finding a boat for guests wanting such trips.
The local authorities keep changing the rules on getting a permit for the Underground River so Greenviews will no longer get the permits and so guests must either get them from the office in Puerto Princesa in person or ask their hotel in Puerto Princesa to get it for them but that will result in an agents fee being added to cost of permit. As the Underground River is very popular such permits should be obtained in good time, perhaps at least one month ahead.