Welcome to Greenviews
Resort accommodation in El Nido and Port Barton.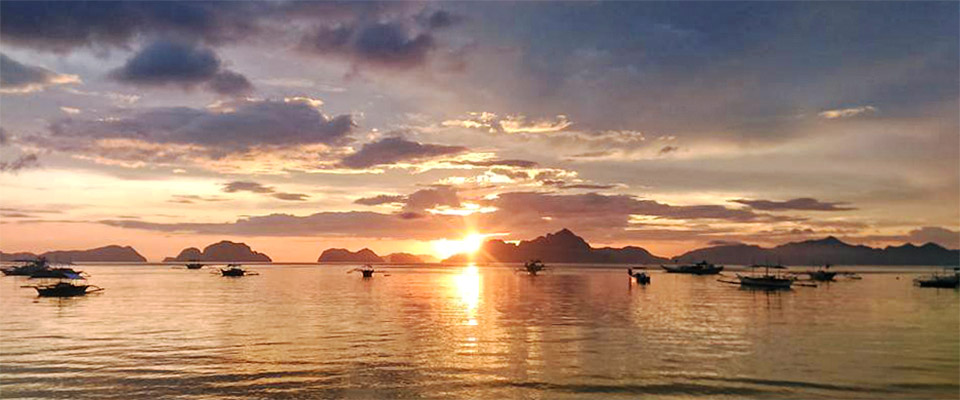 Sunset at Corong–Corong .
Palawan Greenviews has two resorts on Palawan; the resort at Port Barton opened November 1997 and at Corong–Corong, El Nido opened in November 2007.
Both are ideal holiday destinations for guests seeking a genuine friendly, clean and relaxing environment located in two different areas of outstanding natural beauty. A beauty enhanced by the sympathetic construction of native style cottages and restaurants blending into the surrounding wilderness.
The already wonderful atmosphere has been further reinforced by extensive planting of trees, shrubs and orchids which makes walks through the gardens a joy for plant lovers, wildlife enthusiasts and anybody who appreciates the natural world.
Both resorts are conveniently located for boat trips to the surrounding islands and beaches, which Palawan is justifiably world famous for and each resort offers a different kind of island experience.
El Nido's islands are famous for its jagged karst scenery and wonderful beaches whereas the islands around Port Barton are the more typical desert island ideal with superb white beaches and snorkelling opportunities.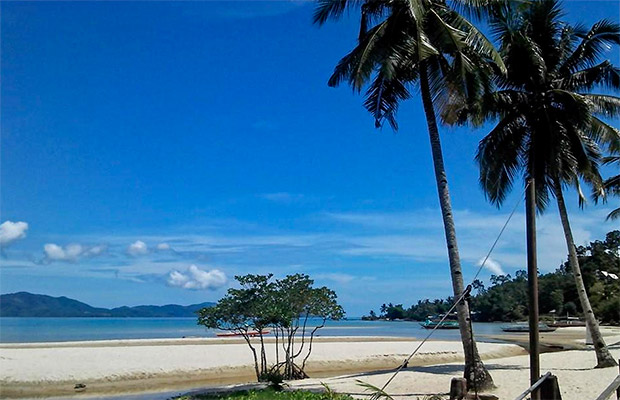 El Nido Resort.
Booking & Enquiries.
To make a booking or for more information, please email :– palawandg@clara.co.uk
Please state which resort in your original booking email request.
Last minute bookings please also call the resorts direct as well as emailing.
for El Nido phone :– 0905 315 6333 or 0921 586 1442
for Port Barton phone :– 0916 403 7788 or 0929 268 5333
PLEASE NOTE THE EL NIDO TELEPHONE NUMBER IN LONELY PLANET IS WRONG)
Palawan Greenviews Resorts have high standards of cleanliness maintained by the friendly and helpful staff and management, which helps guests enjoy the fascinating natural and unique beauty of Palawan – an island which Jacque Cousteau described as the most beautiful place he had ever visited.
The owners Tina & Dave Gooding have a love of nature and the environment and that is evidenced by the way the resort is run with much planting to encourage wildlife into the resorts.
A wonderful introduction to this magnificent scenery can be enjoyed just by sitting, eating or drinking in Greenviews restaurants as both are situated on the second storey overlooking the beach. This is the 'icing on the cake' on top of the delightful food served in both restaurants by staff strictly trained by Tina, who has benefitted from over 20 years working in the UK for millionaires and a billionaire, all requiring exceptional standards of work.
This combination of stunning location, wonderful wooden furniture and excellent food would be hard to match anywhere in the world. The restaurants are also open to non-guests but early or late arrival may be required as the restaurants are often full at peak times but there are pleasant places to wait if time is of little consequence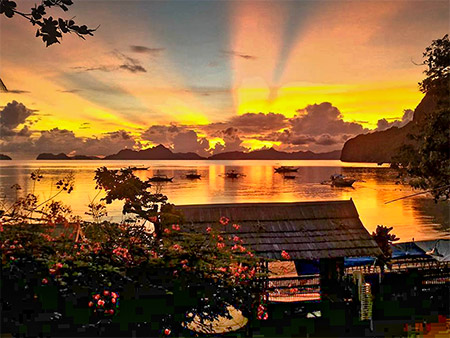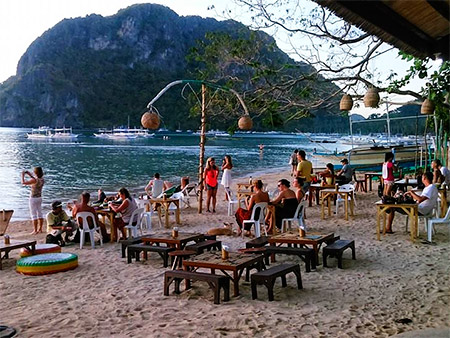 Booking Terms & Conditions.
A deposit of two nights accommodation fee will be required, payable within one week of confirmation of booking or the booking will be automatically cancelled.
If guests do not arrive on the first day covered by the deposit, the deposit will be lost for that first day. It will also be lost for the second day of non–arrival and the booking cancelled unless notified by telephone or email by 12 noon that you will be late.
Guests arriving from Coron by boat should be aware that boats are often cancelled so guests coming from Coron to Greenviews do so at their own risk. If the boats are cancelled and your journey is delayed the deposit will be lost and you must claim on your insurance or from the boat company. Greenviews management do not accept any liability for delays to your journey caused by others. Your booking for the days not covered by a deposit will also be cancelled unless notified of new arrival time by telephone or Email but not by text as texts sometimes do not get through. To avoid this risk we suggest that you fly to and from Coron via Manila as boat cancellations happen frequently. This causes a lot of stress to guests who are stranded by cancellation of the ferry boats.
If a deposit has been paid and we manage to re–let, then we will refund the deposit less 10% administration fee.
Cash in Palawan with particular reference to Port Barton & El Nido
Please note there are no ATMs in Port Barton. El Nido now has one ATM but this ATM is often not working and should not be relied on. The only working ATMs are in Puerto Princesa so if you need Philippine Pesos you are advised to take out cash in Manila or Puerto Princesa. Some places will cash dollars & Euros & pounds but outside Puerto Princesa the rate will be rather poor because resorts & restaurants etc have to cover their own exchange risks as they will not be reimbursed in Pesos until they make a trip to PPC to exchange them and that could be days or weeks. Travel cheques are of little or no use in Palawan.
A few resorts, restaurants etc including Greenviews will accept credit card but will charge 5 or 6% usually but this may in fact be cheaper than the exchange loss suffered on converting foreign currencies. However, be aware that frequent signal problems in networks provided by Globe and Smart can result in credit card machines not working for a few hours and occasionally days. This is beyond the control of Greenviews or any other establishment and can cause considerable stress.
Information and photos of both resorts and the new Jungle & Waterfall Wildlife Sanctuary are set out on subsequent pages.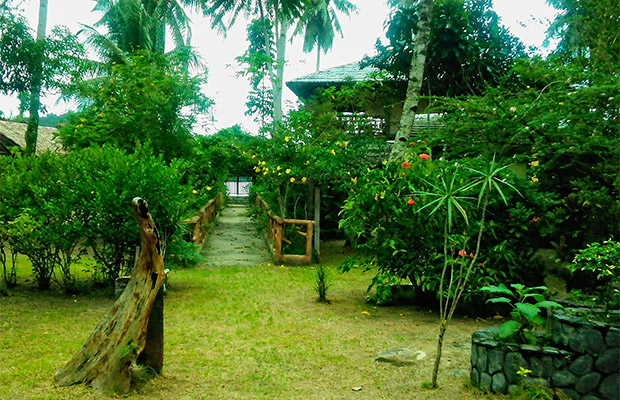 Port Barton Resort.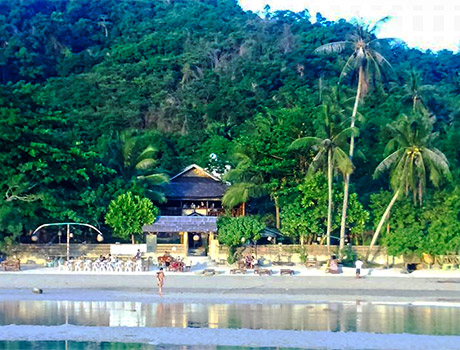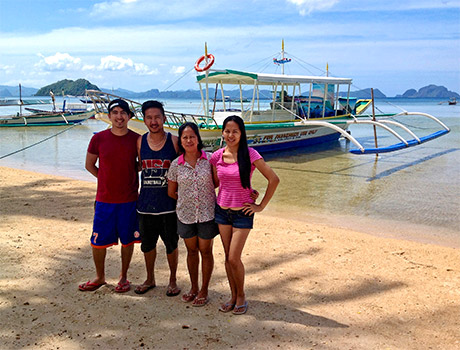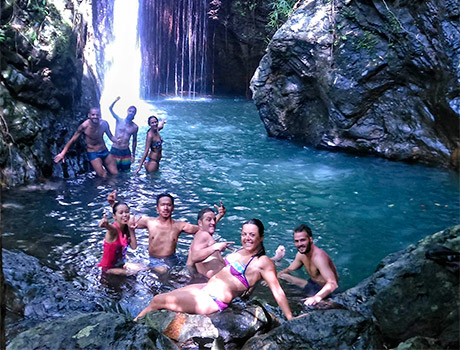 LATEST NEWS
Port Barton Greenviews re-opened 3 December 2013 and now has a magnificent restaurant on the 2nd floor at the front overlooking the beach with superb views of the sea and surrounding coastline.
The Highway PPC to El Nido has now been cemented, so actual travel time if you do not stop is about 4 hours 30 minutes. As all shuttle vans stop at Roxas for about 30 minutes and TayTay roundabout for 10 minutes you need to allow these stops on top of the journey time.
We now have 24 hours free WI–FI at El Nido.
In El Nido on 16 November 2013 the Local Government imposed strict new conditions on operating boat tours including increasing the prices of all the tours A-D by 50% so the new prices which all boat operators have to charge or be fined are A P1200, B P1300, C P1400, D P1200 based on a minimum of 4 passengers per boat and incudes a free buffet lunch, water, tea/coffee.
Greenviews no longer has its big boat going from Port barton to El Nido or to Sabang. If a boat trip is required Greenviews staff will assist in finding a boat for guests wanting such trips.
The local authorities keep changing the rules on getting a permit for the Underground River so Greenviews will no longer get the permits and so guests must either get them from the office in Puerto Princesa in person or ask their hotel in Puerto Princesa to get it for them but that will result in an agents fee being added to cost of permit. As the Underground River is very popular such permits should be obtained in good time, perhaps at least one month ahead.
At El Nido we now provide a beachfront eating and drinking area. Each evening, weather permitting we have a beach BBQ and an acoustic music performance from 6.30pm to 10pm.
At Port Barton we have aquired the adjoining property and have created a wonderful, exotic eating and drinking area. There is live music from 6.30pm to 10pm which makes for an amazing atmosphere amongst a natural setting of trees, palms, shrubs and flowers. This area is about 40 metres from the nearest cottage and should not disturb the guests. The previous live band which played from 7pm to 2pm has been stopped as it was too noisy. They may move to another Greenviews property about 15 minutes from the centre of El Nido where a new jungle disco is planned.
A new International Airport has been built at San Vincente about 25km from Port Barton and International flights are hoped to commence by January 2017 but so far no details have been announced.
There is now a road from Port Barton to Sebang which goes at the back of Greenviews but this road has not been cemented yet and will be a bit bumpy and dusty to use.
At Port Barton the resort goes back 197m and the last 3rd is still semi-wild. Frequent guests to this back 'garden' are the endemic Palawan Hornbill and a small 'alarm bird' a name I use as its incredibly like a fire alarm at about 6am and it has certainly fooled me on at least one occasion! Another bird worth seeing is a Kingfisher feeding on fish in a small brook running through that patch of land, the same brook which many terrapins use and which come to be fed most evenings.
As well as the Kingfisher at the back we have one which perches on the electricity line at the front of the beach which catches fish in a small lagoon protruding into our beach near the front of restaurant and has also been seen to eat crabs from the beach. A much larger Kingfisher can be found at Greenviews El Nido, which unfortunately has learnt to eat our Golden Birdwing caterpillars!